It's been a blissfully busy Holiday Season and so I haven't been able to share nearly as many pictures and stories as I would have liked with you... so tonight I play catch up with our last six weeks, at a glance...
November 23rd
Our Christmas celebrations were officially kicked off with Tali walking in the Evansville Christmas Parade with her dance school. While she had a great time, she did learn that when walking in a parade in a city the size of Evansville, it's important to go with comfort over style- the boots, while adorable... not so good for walking about twelve [real] city blocks.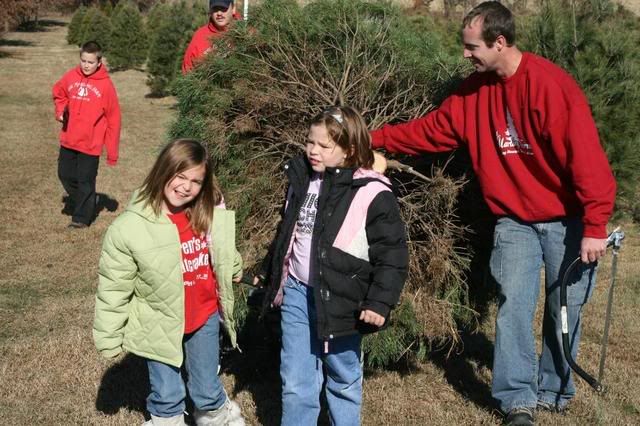 November 29th
Next stop, we continued our family tradition of going to the Christmas Tree farm on the Saturday after Thanksgiving. This year we were blessed with an unseasonably warm day, which ironically made the tree-choosing process much more difficult. Face it, any tree is "good enough" when being pelted in the face with freezing raine. We ended up letting Tali choose this Griswold-sized tree, which she and Molly then helped drag to the shaking and bagging station. Cups of hot cocoa, bowls of chili, and dishes of the best cheesecake in the world quickly ensued.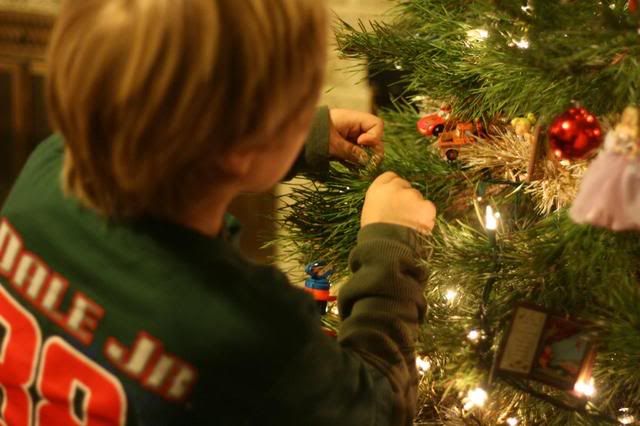 November 29th, 7pm
We bring the tree into the house. It's nicely bound in this netting and doesn't look so bad at all in our living room. We're pretty proud of ourselves for not getting a tree taller than our ceilings this year... and then Jim cuts the net. I only wish I would have had a video camera running as the branches sprang into their original-God-given form, forcing Tali back several feet and smacking Jim in the face. Priceless. And huge. We all sat around and waited as Jim made a last minute trip to the store for more lights. That's right- we didn't even have enough lights to go around the monster. Once lit, and crammed [literally, crammed] back into the corner, decorating fun began. Tali, Zach, and Molly enjoyed taking a trip down memory lane as we went through our ornament box item by item.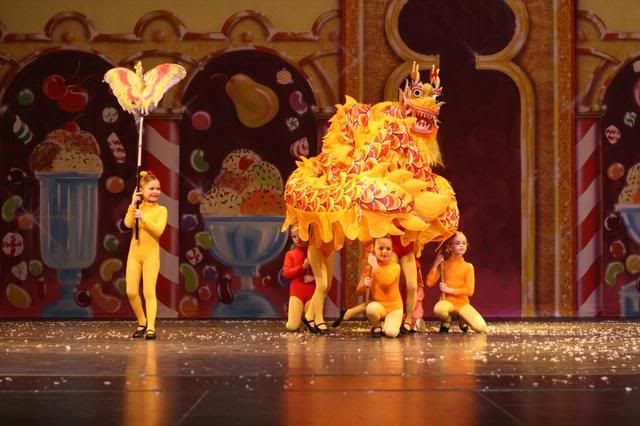 December 5, 7, 13, and 14th
The next two weeks were spent travelling with Tali's dance school as they performed the Children's Nutcracker in Evansville, Lynnville, New Harmony, and Henderson. Tali is the beautiful ballerina holding the butterfly. I loved this new variation of the Chinese dance this- the Dragon was a beautiful shot of color and excitement on stage! This was also Tali's favorite part to dance. When we first chose to change studios, I was so worried about the road time. Since then, I've found our time on the road to be some of the best time Tali and I have to spend together. It's a special time filled with singing, conversations, questions, ice cream, Adventures in Odyssey, and a LOT of Misty Edwards.
December 21, 9am
Christmas Sunday, and Tali and Zach are looking dapper in their annual Christmas outfits from Mamaw Miller. She has always loved dressing the kids up, and this year she really outdid herself with their adorable matching outfits. Once dressed, my annual tradition of torturing my children in front of the Christmas Tree then began. Pictured above are the results of that torture session.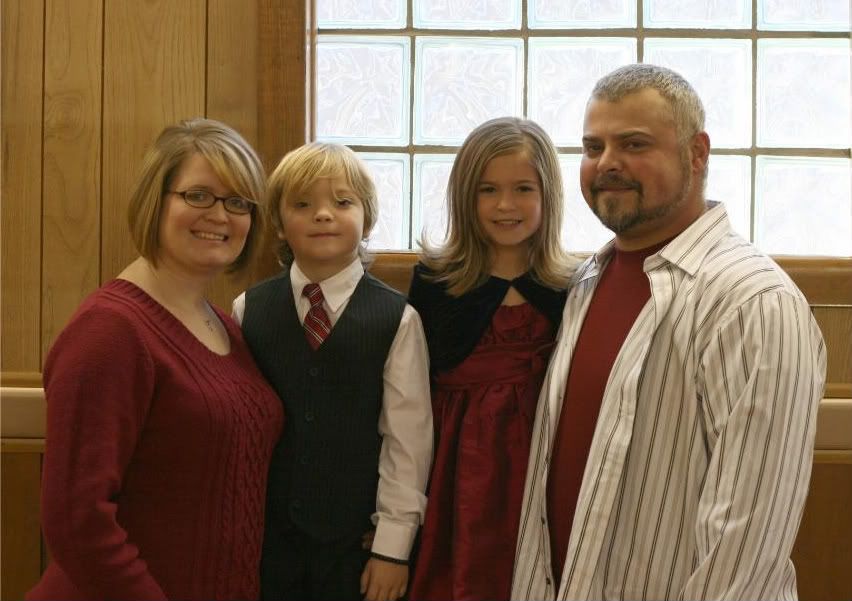 December 21st, 10:45am
It's a Christmas Miracle! We all made it to church, on time, in our outfits, with no major stains or issues... and we actually still appear to be happy about it! Hallelujah!
December 22nd
Today was a marathon day of gift wrapping. Tali has been having some chest pains, and after seeing the doctor we decided to occupy our hands and minds with much overdue wrapping. I love to wrap gifts, and Tali has decided that she does too. This year she learned the fine art of curling ribbon [it's a special gift], which clearly takes a lot of concentration. The great news was that tests the following day all came back normal. Praising the Lord for the best gift of the year!


December 21st, all afternoon
After church we head to the Jones' home for our annual Christmas Gift exchange with Grace. The gifts were wonderful and the kids enjoyed them immensely... but I think everyone's favorite part of the day was just getting to hang out with our friends- seemed like it had been forever. The kids toasted the event with sparkling grape juice. How cute is that???
Christmas morning, 1:00am
Every Christmas Eve we get the kids to bed, I head into the Christmas Eve Service that starts at 11:00pm, and then when we get home after a bit of prep work I take a picture of our Christmas Tree, post-Santa. Santa's gifts are wrapped in the candy cane looking paper, no bows. Because of course bows would be a hindrance in packing a big red back full of gifts. Santa is a very practical man that way, I'm fairly sure of it. According to the phone conversation my brother, Fireball, had with Santa at 8pm on Christmas Eve, we were lucky he made it to Edwardsport at all. Apparently there was an incident with another aircraft in Sydney, Australia. Unfortunately there was significant damage including the deaths of two reindeer, however Santa's elves saved the day by flying in replacements and quickly. It was a scary time for three little ones for a while, but were quickly reassured by the twinkling of lights in the night sky- obviously from Santa's sleigh.
Christmas morning, 1:30am
The kids rush into our bedroom announcing that Santa has arrived. Please note the time on the above picture... 1:00am. Obviously, we were in no position to be starting Christmas morning already. I tried to coax the kids back into bed, but frankly they were on Christmas Crack and it wasn't happening... so I finally settled for tucking them in on the couch to watch "A Christmas Story" play all night on TBS until I could finally coax their father out of bed. I lay in my room, listening to their giggling speculation as to what may be in the packages wrapped underneath the tree. It must have been a unique sort of torture to have to sit there, feet away from the dream, but unable to do anything about it until Papa Bear awoke from his slumber.








Christmas morning, 4am
Jim gives in at 3:45 and tells the kids that when the current showing of Ralphie is over, we will do presents. The adrenaline level in our house immediately exceeds anything previously recorded by science. The look on Zach's face truly says it all- part ecstatic child, part madman. They were so great opening gifts, though. Taking turns watching each other open every gift. Dancing with excitement as one of us opened a present from them. It was cool to see them as excited about giving as receiving. It was also a special year because we did not go insane on Christmas. No huge gifts, no major expenses. We really made our best effort to focus on the real reason for the season and not get caught up in outgifting the rest of the world. We spent half of what we did last year, and you know what... the kids didn't even notice.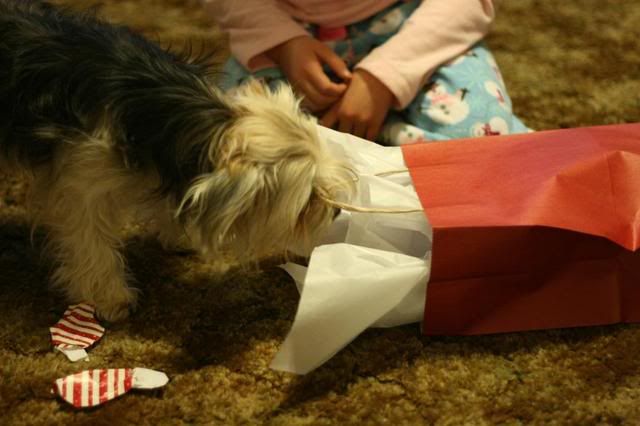 Christmas morning, 4:30am
We couldn't resist these rawhide candy canes for the puppies. Here is Lily unwrapping hers. I know, there's something a little warped about having one picture each of my kids unwrapping gifts and two pictures of the dog- but admit it, you are melting with the cuteness of these pictures right now.

Christmas morning 5:30am
The last gift left was mine. I was dying to know what it was... yet wanted to keep the mystery alive as long as possible. And yes, I was brought to tears when I opened it and realized that Jim had gotten me the Willow Tree Nativity. So fitting, I realized, as the Lord had called me to share a message about Mary just the night before at the Christmas Eve Service. I argued with Him long and hard about it- talking amongst friends, no problem, even sitting at a table leading a discussion is okay... but standing in front of people on a night as special as Christmas Eve. I'm just not good enough for something like that. Moreover, I just didn't want to go out on a limb. But my amazing sister, Beverly, wasn't going to let me go down like that, and held me accountable to God's call- so I contacted Seth. Truth is, I'm not good enough for something like this... but God is. And He's never let me down before and this evening was no exception. As I opened my gift Christmas morning and looked at the beautifully sculpted mother and child, I praised the Lord again for not letting me ignore Him. How awful would I have felt had I continued to be steadfast in my disobedience and then opened that gift? Now I have a beautiful memory of God's faithfulness tied with an already beautiful nativity.



Christmas morning, 6am
This is my husband, taunting the Christmas tree. That's right. He's taunting a tree. Within minutes of the last bow being thrown away, Jim was trying to decide if he could have the tree out of the house before we left for my mom's house (at 10am). The kids and I tried to talk him out of it, but once the taunting began I knew we were fighting a losing battle. We decided instead to silently protest by not assisting. In fact, I went to sleep. Tali played for a while and then also dozed off. Zach was still going hard on the Christmas Crack and promptly wrote on his brand new football jersey with marker, mixed the various colors of Moon Sand together to make a nice shade of teal, and realized that his toy shotgun really doesn't eject the shells that great.


In the interest of honesty, I did not take this picture at 8am. Because I was still sleeping at 8am. And no matter how badly he wanted me to get up and take his picture proudly throwing the tree off the porce at 8am, I was not going to do it. So he took a picture on his cell phone at this time to prove that he had, in fact, broken all land-speed-Christmas-un-decorating records by having the tree down AND out of the house before breakfast. This shot also gives you a nice reference for just how ridiculously large our tree was this year. I'm curious what the neighbors thought as they drove by and saw the tree already out? Can you just imagine some of the thoughts that must have gone through their minds? It's okay, though, because this feat put Jim in one of the best Christmas Day moods I have ever seen... so it was worth the sacrifice.




We head into moms around 10:45am. Fireball, Hillary, and Molly arrived very shortly thereafter (also a Christmas miracle). I could not WAIT for Fireball to open this gift from me- a sock monkey- known to our family as "Monkedee". To explain briefly, Fireball hijacked my sock monkey as a child and literally loved it til it fell to pieces. Mom mended and mended and mended that silly thing, but finally Fireball had loved it to death. I nearly cried when I saw one on the store this Christmas Season, and Fireball's reaction totally lived up to my expectations. He now sleeps with Monkedee again. Sorry about that Hillary.



Santa also brought Tali some pink temporary hair dye/spray/stuff. She couldn't wait to share it with Molly. They make pink hair look GOOD.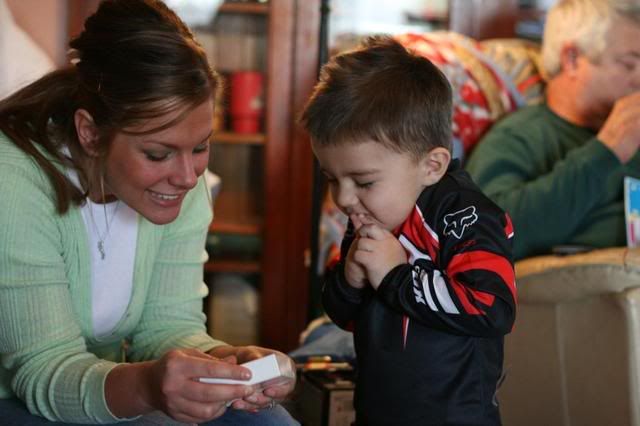 Christmas Day 3-7:30pm
At 2:45 we headed out to Don and Susan's, where we met up with Jason, Brooke, Jason and Kolten as well. Complete Christmas Madness broke loose- you have never seen so much flying tissue paper, torn wrapping paper, bows flying, and children jumping. It was magical. It was a gift opening free-for-all. No orderly one-at-a-time gift opening for this clan!!!! After dinner Tali and Kaden decorated a Gingerbread house. Zach unfortunately missed both dinner and Gingerbread fun as Christmas Crack only lasts sixteen hours.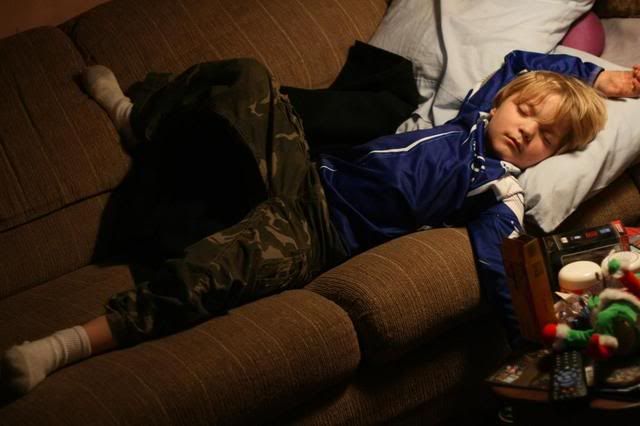 Christmas evening, 5:30pm
We all knew something was up when Zach announced he didn't want to eat supper. One minute he was racing through the house on his little bike, and the next he was in the kitchen making this grand statement. Zach not wanting to eat? I knew it had happened- he had finally ran out of steam. I told him he could lay on the couch if he needed, and by the time I followed him into the living room he was already piling pillows and blankets. Within five minutes- here he was. One thing is for sure, Zach got the most out of his Christmas day- going full tilt from 1:30am onwards. A full day of giving and receiving gifts, joyously thanking everyone, loving on his mommy and daddy, and waiting in anticipation for the next stop on his own personal little Christmas treasure hunt.
Looking back over these pictures, I realize we all made the most of this Christmas season- parades, performances, trees, friends, church, family... and eventually gifts. There's even more that I couldn't fit in here. More blessings than a person can recount in a single sitting. But here you have a few of the highlights. Thanks for indulging me in my memories.
Merry Christmas.